So I started a couple paintings last night. I've been wanting to paint for awhile now, and I've had the idea for these paintings for awhile now, so Sunday night I told Annilyn that I was sick of waiting and I Need Reference Photos Now. And Annilyn, being the kind and lovely roommate she is, obliged me.
I WAS going to wait to actually start painting until I, um, actually had the TIME to do it, not to mention a safe space, etc., but then of course it would never have happened, and I don't have that kind of will power.
(More specifically, I have the 'I must paint now and alot and crazily because I am an art major and nothing must get between me and my paintings!" kind of will power rather than the "I will study for my art history test because I'm a good little student, even though painting paintings is much more fun than writing about them" kind of will power. I just took the Art History test and... well, I think I passed, at least :-}.)
ANYWAY.
Here they are. I worked on them for... an hour or two. I've never been one who has kept track of time extremely well.
Yeah, I'm the one in the reference photo, so I guess you could say that these are self portraits, but I don't exactly think of them that way because the point of these paintings isn't an accurate likness but just... well, they're just supposed to be paintings. That happen to be of myself. sort of.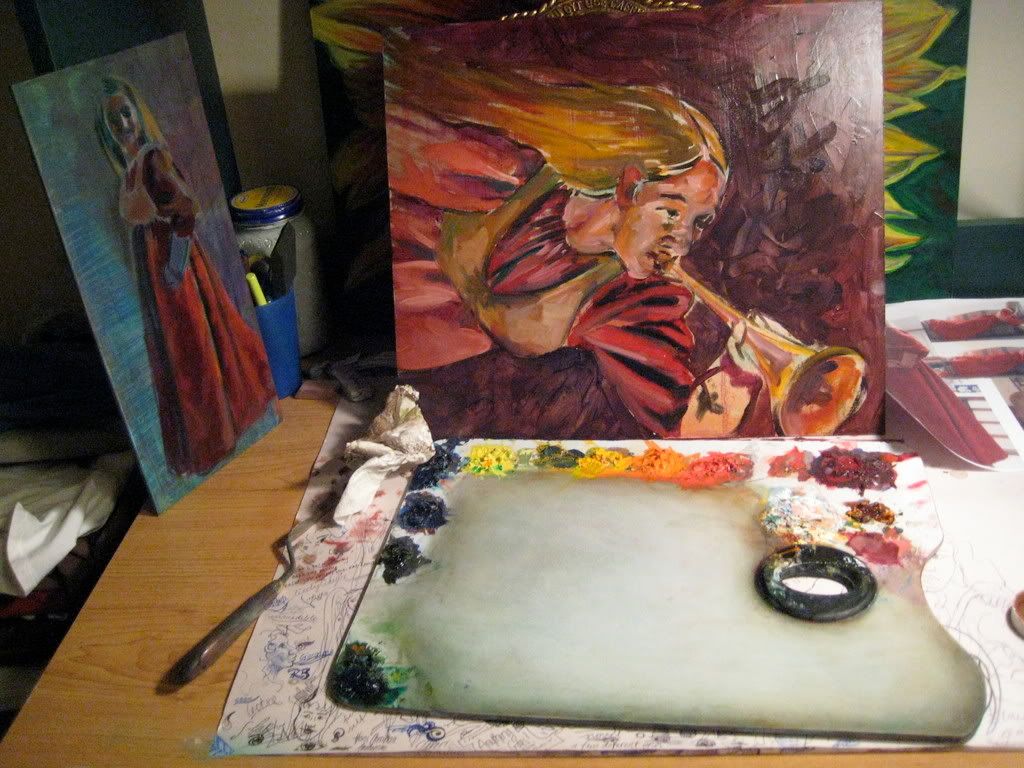 Yeah, I just painted them on my desk. Somehow I managed to have all needed painting supplies EXCEPT an easel... so I used my Mirror of Erised. Hey, it worked.
Some close-ups...
Sorry its kinda blurry. And at a weird angle. And stuff.
Yeah, so painting myself flying with a horn like an angel might be a bit vain/blasphemous, but I don't really see it that way.
I'd show you the reference photos too if I didn't think that the paintings were actually much more flattering. :-)
There are things I like and don't like about each of them, but I'm not going to tell you because I'd like to know what whoever is reading this might think. :)